Royals reveal their Christmas card photos
The British Royal Family released their Christmas card photographs today, and there's a little something in them for everyone.
The Duchess of Cambridge and Prince William are expected to spend Christmas with the royal family at Sandringham, so they'll join the family for Christmas morning service in Norfolk. But it's definitely fitting.
Prince William, Kate and their kids - Prince George, Princess Charlotte and Prince Louis - released their charmingly casual 2018 Christmas card photo on Friday (Dec. 14), and Kate's outfit looks nearly identical to their snap from three years ago.
The Kensington Palace released a black and white photo of Prince Harry and Meghan Markle on their wedding day.
Three-year-old Charlotte stands on the trunk with her arms around her parents' shoulders, while five-year-old George playfully holds on to his father as he stands one-legged in wellies on the trunk.
"I have to say that if I got a Christmas card from Harry and Meghan (yeah like that would happen) I would be insulted that they had turned their backs to me", Shirley Wainwright wrote on Twitter.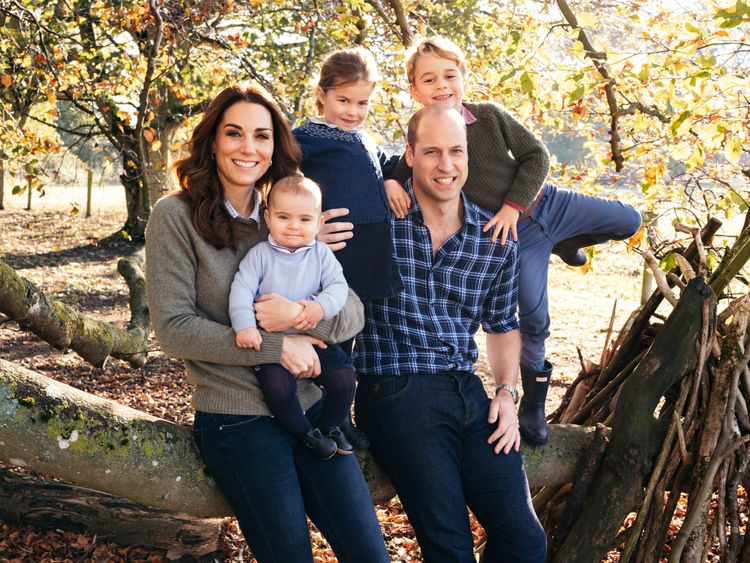 Image The Duke and Duchess of Cambridge's card shows the whole family including baby Louis
The Prince of Wales and the Duchess of Cornwall, Charles and Camilla, opted for a summer shot for their Christmas card.
The palace also released a Christmas card photo of Prince Harry, 34, and Meghan Markle, 37, taken at their wedding reception in May.
The snap, which is the couple's official Christmas card image, shows them embracing as they watch a fireworks display across the lake. With their backs to the camera and fireworks going off, the romance of the pic is ideal for their first holiday card as a married couple.
The 2017 photo was taken by royal photographer Chris Jackson at Kensington Palace.
The pregnant royal was spotted in October, whilst on the second day of her royal tour to Australia with husband Prince Harry, wearing an oversized plaid blazer from her friend Serena's eponymous line prompting a rush on the garment which instantly sold-out.
The holiday photos come in the midst of rumors that there's tension between the royal couples.